Submitted by Monica Z Photography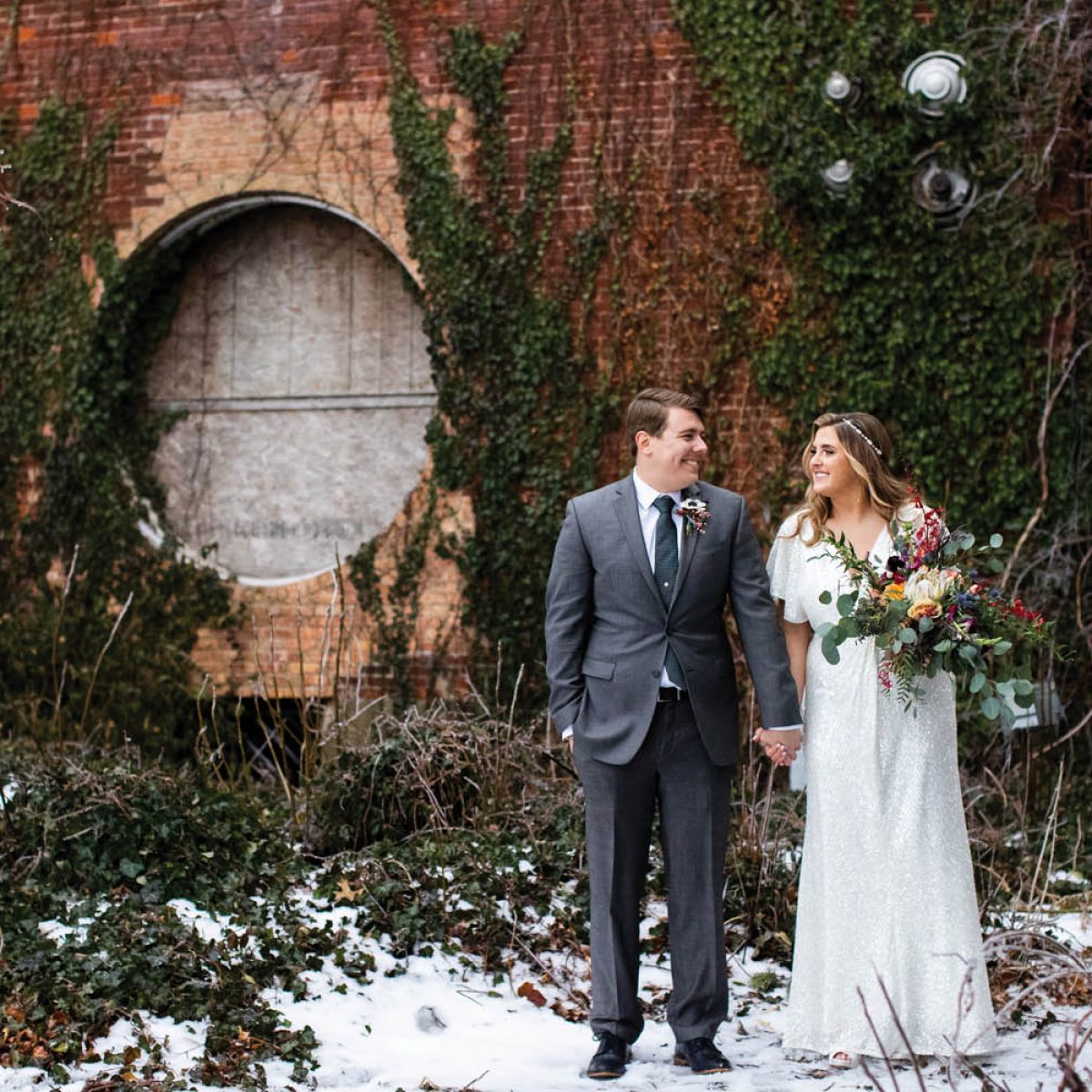 Like so many weddings in the last year, this one did not happen as originally planned. With the original reception plans put on hold, the marriage itself was still happening as previously scheduled. Preparation for Olivia took place at her family home. Katie & Ashley from Girl on the Glow were working on Olivia's old Hollywood glam look when I arrived. Everything outside was covered in a layer of ice, which made things… interesting. With the Wedding Mass starting just after sunset and in order to capture some daylight, Olivia and Brad chose to do a first look. A small wrench, or giant fallen tree, was thrown into our original location, so we chose to move indoors. Barrelhouse not only provided a beautiful backdrop for their portraits, but also gave them a chance to include their beloved corgi, Zoe. Olivia's bouquet and the florals by Sugarfield Flowers were an eclectic blend with just the perfect amount of color to POP on that wintery January day.  
A traditional wedding mass was held at St Mary's church, in my hometown of Michigan City. After a few family photos at St. Mary's, we returned to Barrelhouse for an intimate dinner & cocktails. Dee Haddad of LakeLifeSocial designed the wedding decor and had this to say: 
"They clearly knew what was most important to them. Creating an intimate dinner space that spoke only to their immediate family and friends was the main objective. Candlelight, jewel tones and a sense of togetherness was how the bride described her vision. Creating a long kings table for their guests and a small sweetheart table for the couple gave them the view throughout the dinner they really wanted."
After enjoying their wedding cake, from Bit of Swiss, a quick first dance, we noticed the incredible amount of SNOW, coming down outside. Not just a little sprinkle of snow, but a full on snow storm. My second shooter, Jessica, and myself grabbed Olivia and Brad to brave the cold for some incredible end of night portraits. 
Olivia & Brad's wedding day, while not as originally planned, was full of memorable moments, love, and of course, snow.