Happy Halloween from The Wedding Mag!
We decided to do something a little unique for our brides and created a skull bride for this spooktacular mini shoot. Inspired by Bethza's talent in makeup, we wanted to be a little spooky yet fun and artistic when we were thinking of a skull bride. We have such talent in Northern Indiana and it really shows when we do things like this.  We hope you enjoy this fun stylized shoot!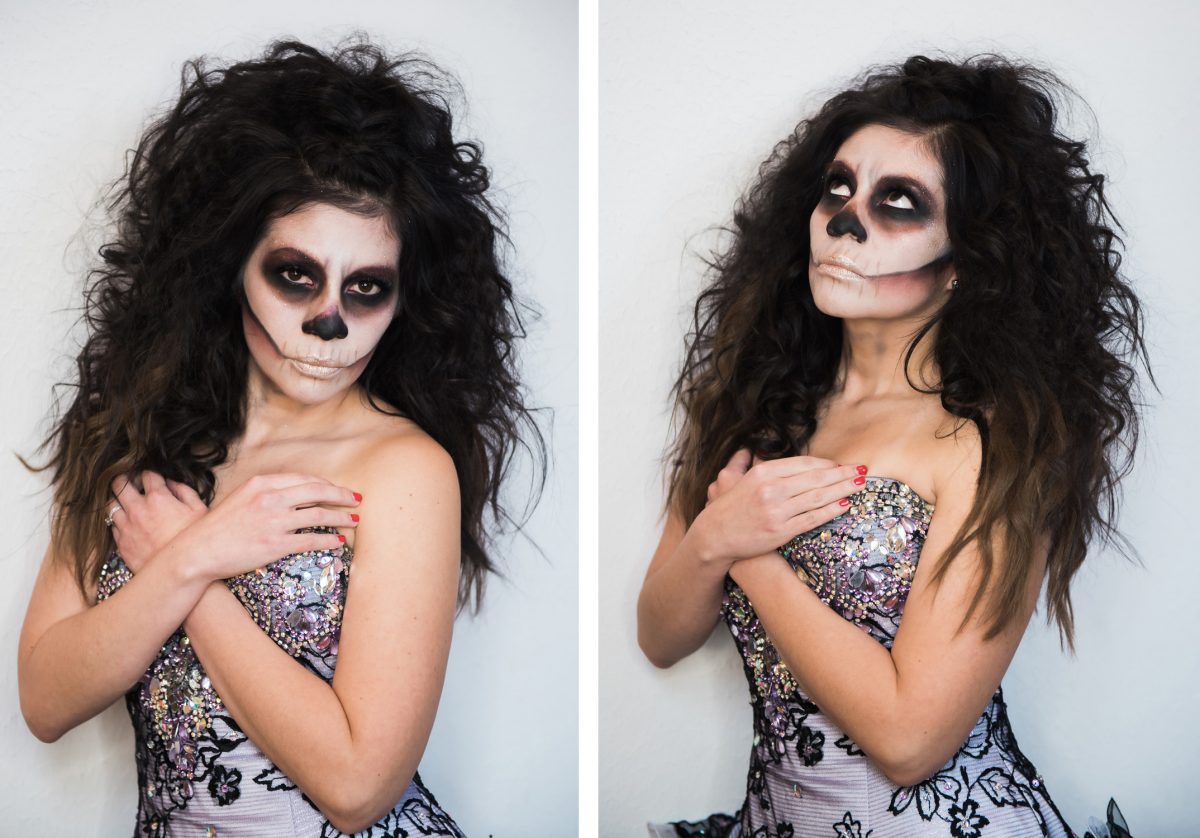 Makeup Artist: Bethza Seminario  |  Hair Artist: Megan Likens
While looking for inspirations for the winter issue of The Wedding Mag photoshoot, I came across an editorial image created by Nina Savina from Moscow, Russia. The model wasn't wearing a traditional skull makeup look done with white and black paint. The model had an editorial, classic smokey eyed, contoured flawless skin, with only a few skull accents around her mouth. The lighting the photographer used gave her a dark vibe. Then within hours, a client of mine tagged me on a couple of her personal images, where I had done her and her husband's makeup last year. The beauty of the model was there, but there was this vibe you only get around this time of year, Halloween! So, I thought, why don't we do a Halloween shoot with a wedding theme? All the elements would be the same, except we would bring out little pieces of this fun holiday. I called some friends around and everyone was in for it! I cannot be happier with what we have created on this issue. Our fun, creative, and even funky side flourished! I couldn't have done it without the help of the team who collaborated on this issue. Happy Halloween to everyone!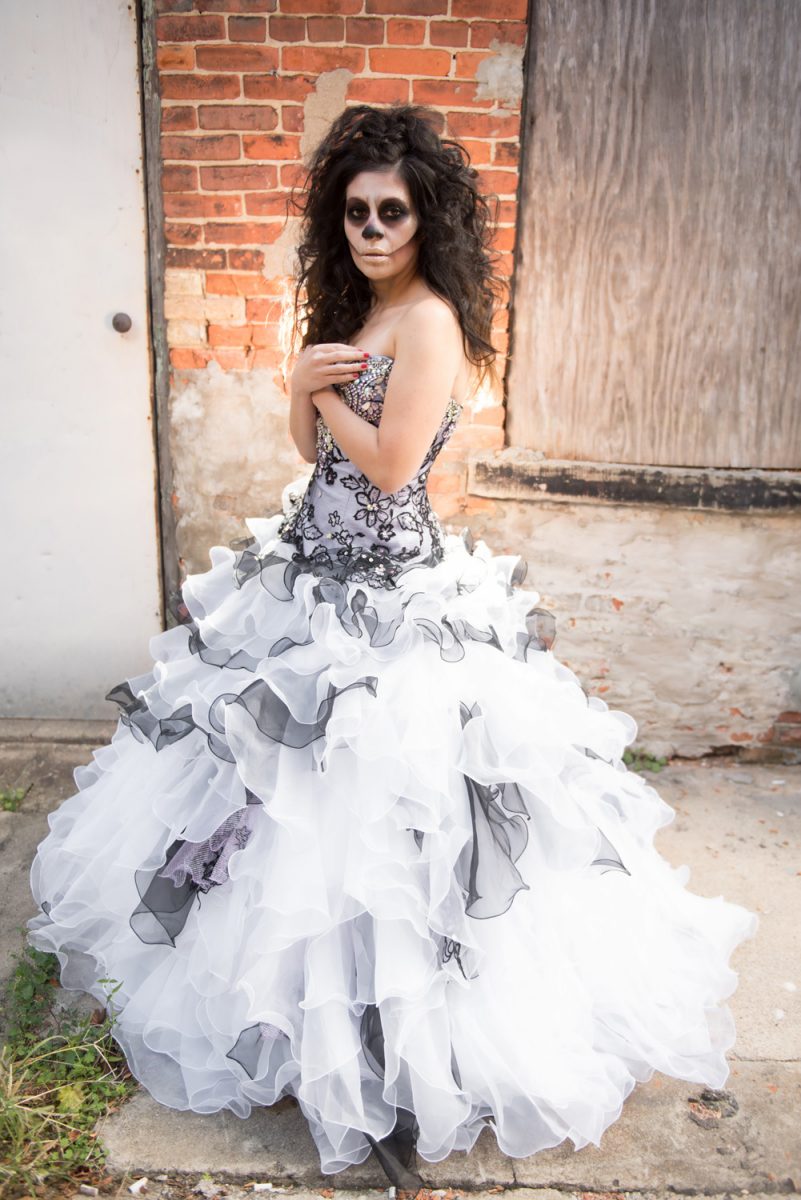 I thought this gown was perfect for the theme Bethza was going for. The right details for this occasion: a hint of black and a soft purple tone had a great contrast with white color. This combination makes the dress have a dark vibe for this festivities.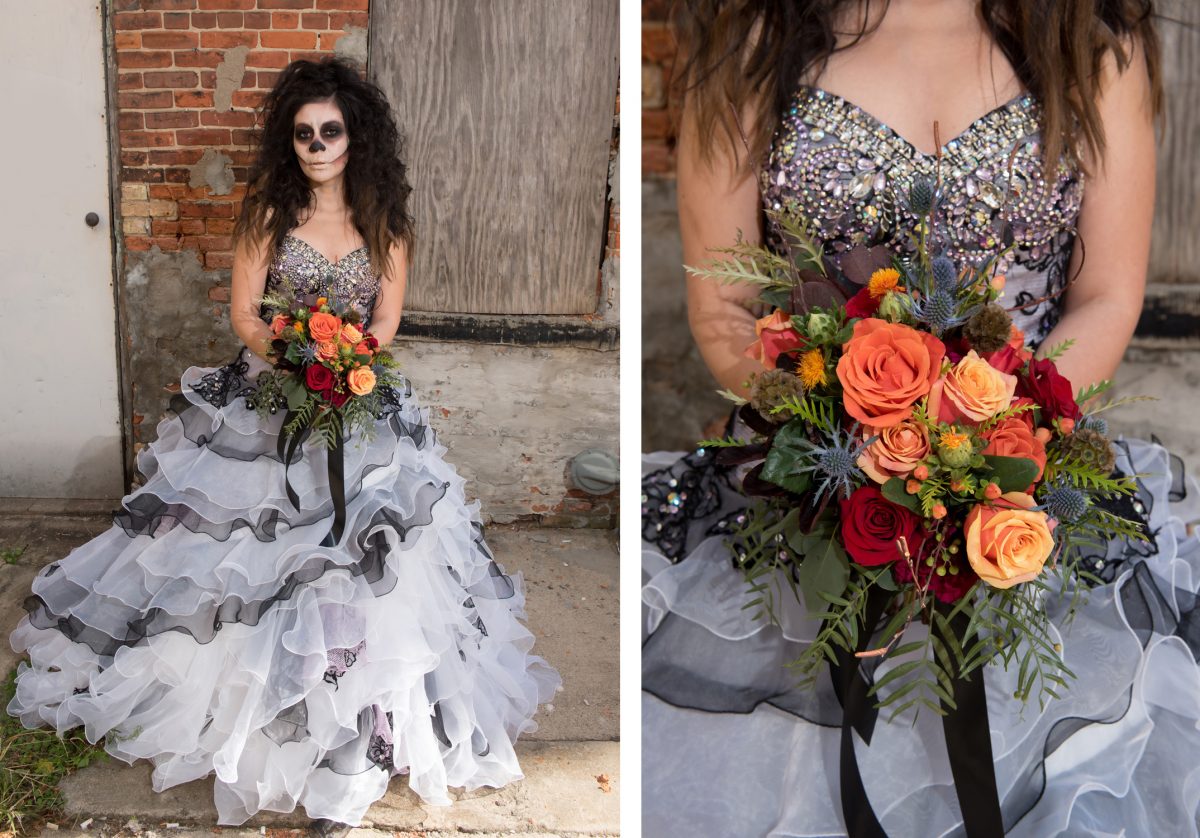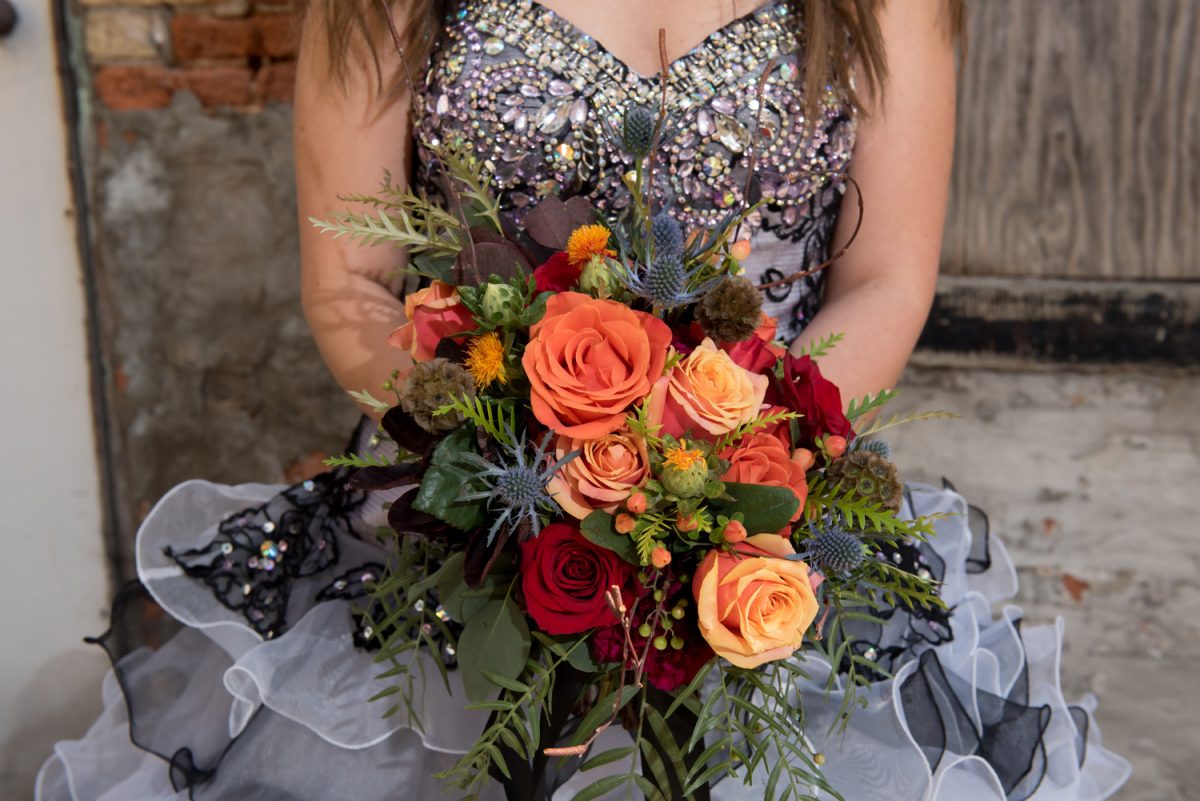 Every bride should have the prettiest details for her wedding, even a skeleton bride! I wanted to include vibrant fall colors to bring some "life" into this shoot, and I achieved that with a variety of textures and florals. The vivid orange and scarlet red roses pop as the focal flowers, while the blue thistle, draping pepperberry, and sharp foliages add a freshly foraged feel to our Halloween inspired wedding bouquet.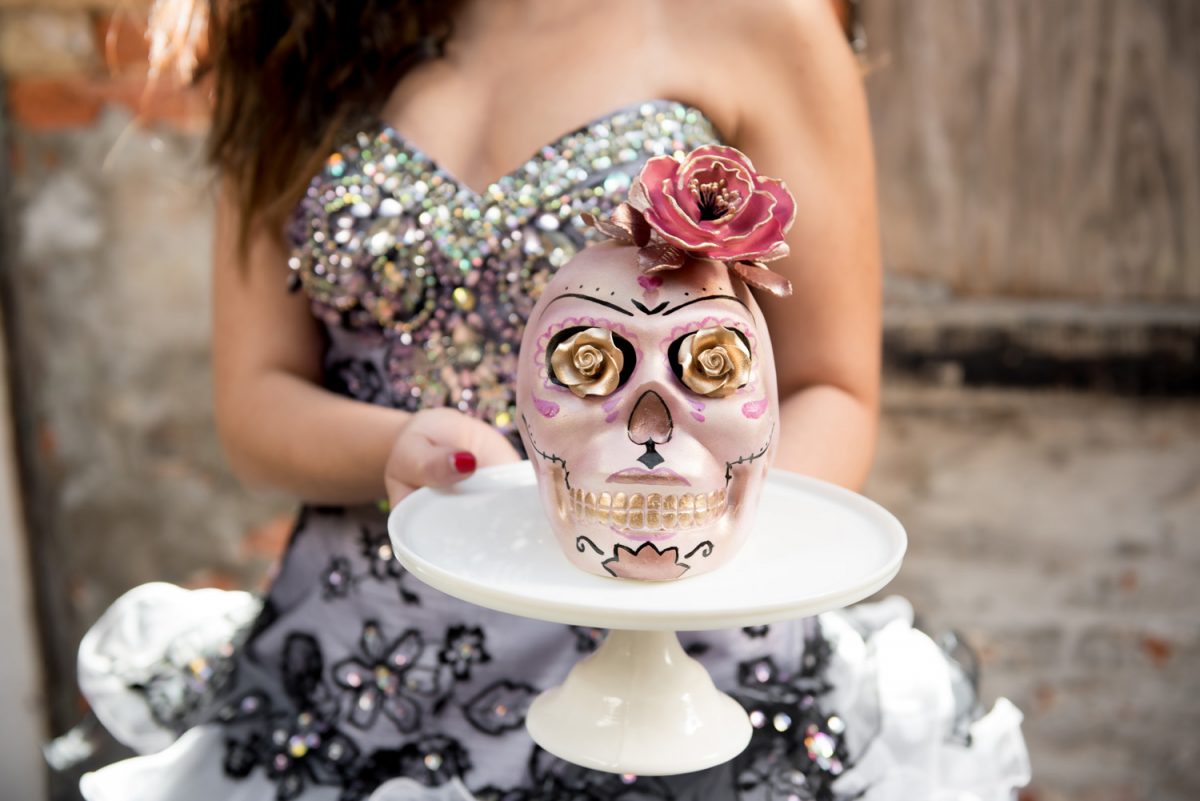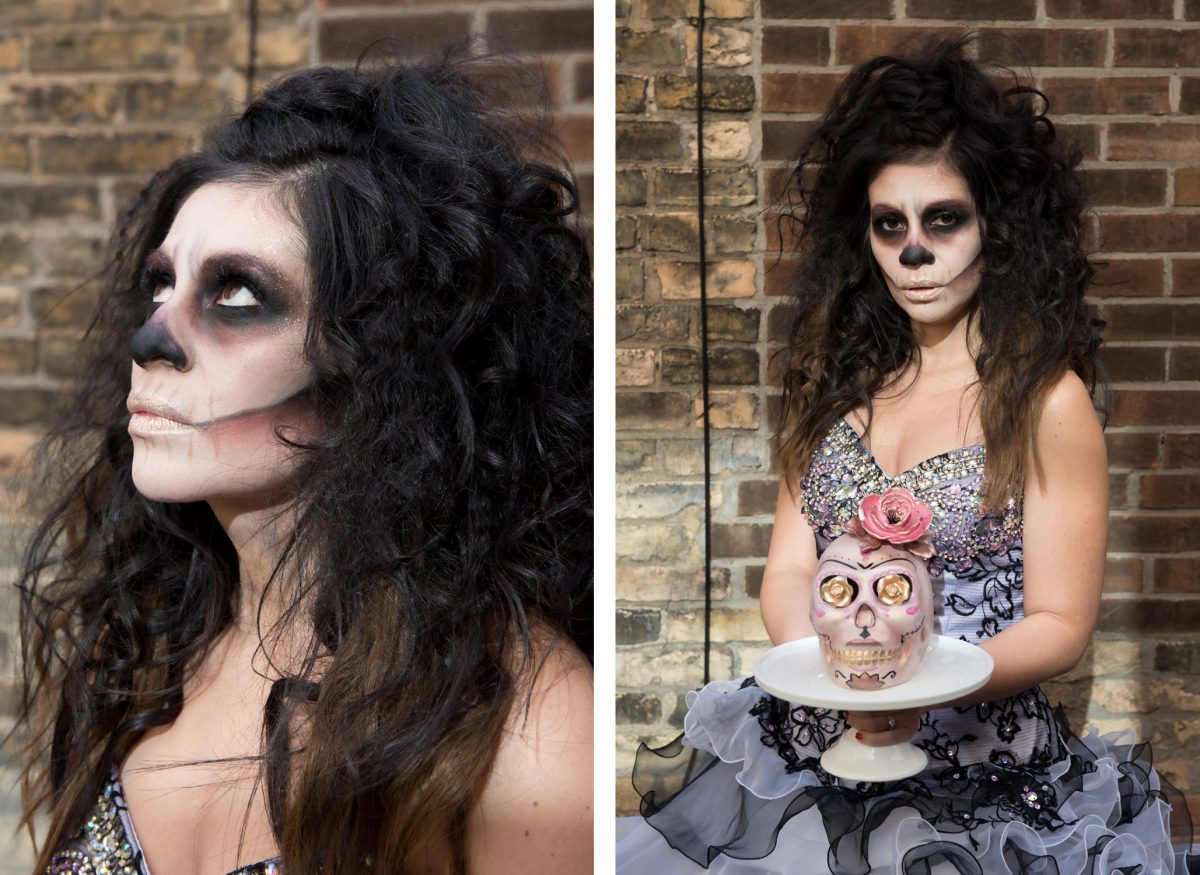 The beautiful sugar skull was designed and decorated by SugaRush Desserts at b on the river located in Elkhart, Indiana. Specializing in Custom Cakes, Cupcakes, and Desserts!

As a photographer, my main goal is to connect with each client on an emotional level and bring that to life through an image. I create real moments so the clients can look back on the images and see their authentic selves and a true reflection of how they felt in those moments. While I am based in South Bend, Indiana, I am pleased to offer destination photography all over the globe.