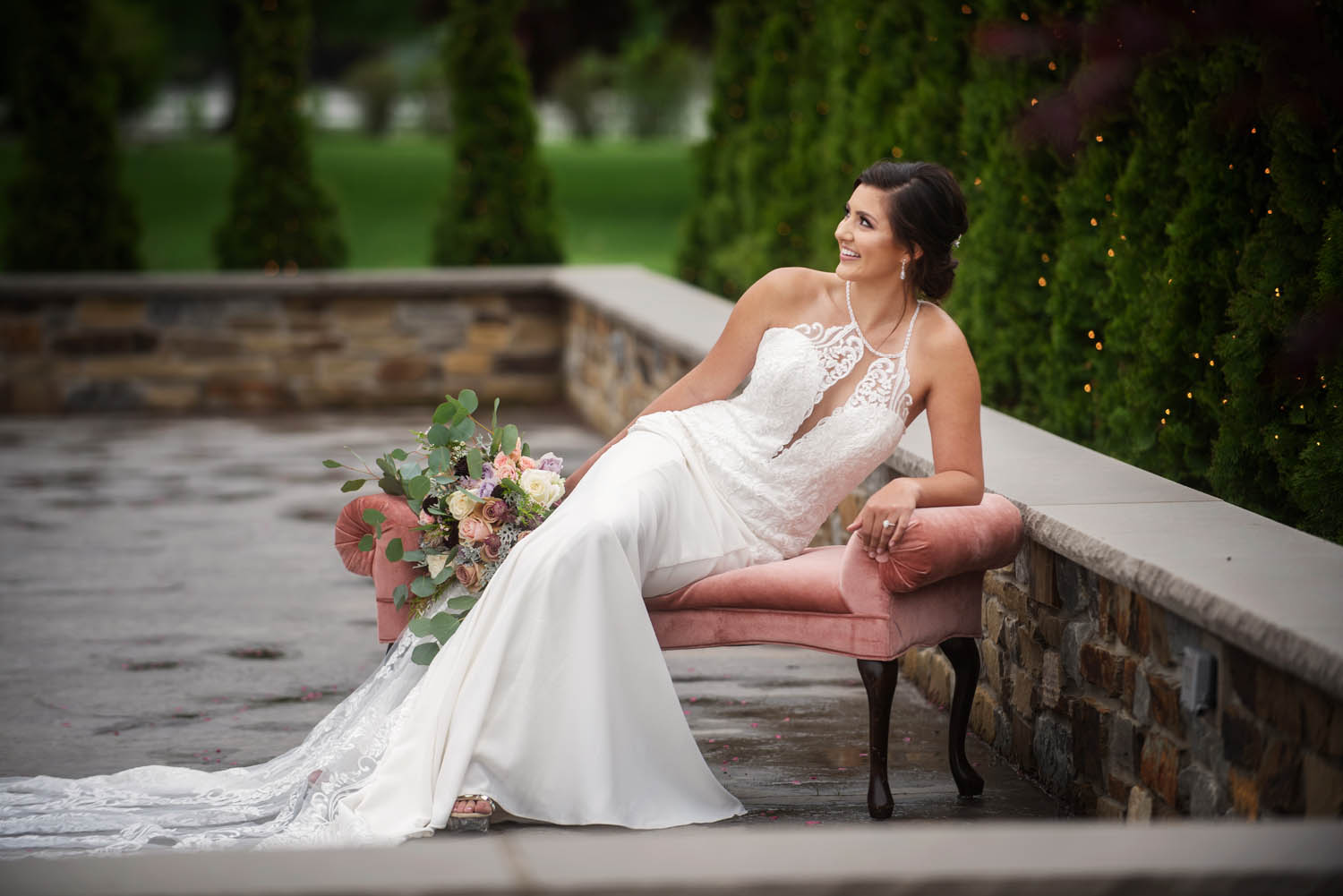 The title, A Whimsical Romance, embodies what we wanted this summer shoot to showcase. For this summer stylized shoot, we really wanted to embrace a whimsical and calming color palette that is very pleasing to the eye. We focused on simplicity, yet bold key pieces, to stand out on their own. 
Newly renovated, The Blue Teal is a must see for any bride-to-be! The beautiful stone fireplace, vaulted ceilings and gorgeous patio creates an inviting atmosphere for you and your guests! They even have an adorable bridal suite just outside of the venue where you and your bridal party can get ready. You can have your rehearsal, ceremony and reception all in one location catered by Nelson's BBQ. 
AAYS created a seating area by the fireplace that looked like it came straight out of a home décor magazine! We loved how it just brightened up the room. These types of lounge atmospheres are wonderful spaces to create for your guests to grab cocktails and mingle during the slower time between the ceremony ending and before the reception begins.  
AAYS Event Rentals did an outstanding job styling and decorating this Whimsical Romance shoot! The barn wood tablescapes matched perfectly with the fireplace at The Blue Teal and then the accenting gold chairs and décor really made the look pop! Their color choices between the blush, lilac, and light smoke grey looked absolutely magnificent. 
AAYS also created a small ceremony spot inside The Blue Teal! This ceremony design could also be placed outside on the patio if you are looking for an outdoor wedding. The drapery made the overall look magical. 
When Matzke Florist arrived with the floral arrangements, we immediately fell in love! The beautiful centerpieces for the tablescapes, the stunning bouquet, and the delicate floral design for the back of the chairs looked so elegant and classy! A few of the flowers used were amnesia roses, playa blanc white roses, nena pink roses, lavender and pink spray roses. 
The Blue Teal created a scrumptious meal for the bride, groom, and their guests. They made beef tenderloin tips with demi-glace, redskin mashed potatoes and brown sugar glazed Parisian carrots. They also made Port-a-Pit chicken breast with Marsala and mushrooms, redskin mashed potatoes and brown sugar glazed Parisian carrots. 
Our model, Nicolette Pacheco, looked absolutely stunning in her lace and beaded gown provided by Simply Yours Bridal & Formal Wear! The details on this dress are breathtaking! We loved the lace cut out on the train! 
Working alongside JB Photography is like hanging out with a good friend of yours. Not only is she amazing at photography but she is a people's person! If you feel shy in front of thecamera she will make you feel instantly comfortable. She captures each and every small detail that you will want to remember on your big day!  
It's all in the details. That is the best way to explain Sweet-Em's Cake Shoppe! The cake they designed for this shoot was one-of-a-kind! This four-tiered cake was so exquisite that you couldn't help but just stare! From the marbled bottom tier to the floral design outlined in gold, this cake was a masterpiece! Oh, and the taste of the cake was out of this world! 
Nicolette's hair was done by Marissa Lehman from L&M Hair Design. This updo really accentuated the neckline of the gown. With a simplistic look of a low bun and side French braid, it looked so effortless and chic! 
We loved how Ashley Troxel Professional Makeup Artist created a smokey eye with a dusty pink shadow on Nicolette! The light and natural makeup look really gave a fresh andglowy appearance. No matter what look you are wanting to achieve for your wedding day, Ashley Troxel is fantastic at creating a natural look to a more dramatic makeup!