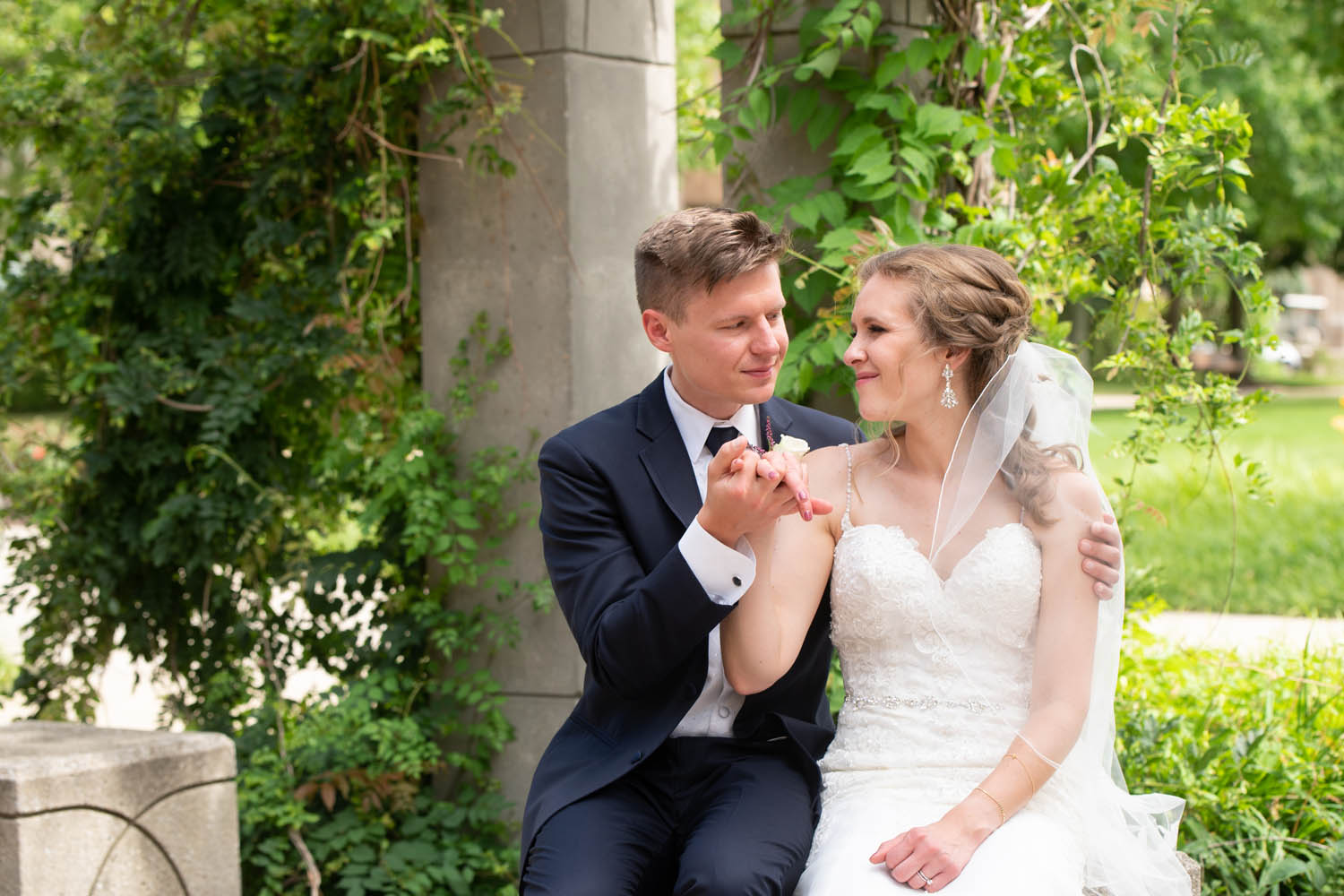 The Bride's Perspective
Describe your wedding vision
My mom and sister Katie know me very well, and I can definitely say that our wedding wouldn't have turned out as beautiful as it was without their abundance of help! I can't say I had a specific vision in mind other than having as many family and friends there to celebrate with us. I was very happy that my grandma was able to come in the middle of a pandemic. It meant so much to me that she was there. Our photographer made a point that if anyone had questions during the day that they should ask her, not the bride, because I don't need to worry about the details then. I appreciated this because being in the moment and focusing on our family and friends was important to me. I've always loved sparkles, so I made sure my dress had as many sparkles as possible. I'll admit I know nothing about flowers. I knew I wanted different shades of pink with a gold accent to match the color scheme of everything else, and our florist did amazing with me just telling her that! 
Describe your wedding day
Our wedding day was simply beautiful! From the flowers, to the 4-tiered cake, the chandeliers at The Armory, our hair and makeup, St. Matthew's Cathedral, and to my beautiful bridesmaids (Katie, Sarah, Tess, Cecily, Ashley, and Sara) and handsome groomsmen (Tony, Jacob, Robert, Brian, Tyler, and Ben) – everything turned out so beautifully! Our photographer really stepped up and was more than just a photographer. She was almost like a wedding coordinator too. She helped us so much with the timeline for the day and made sure everything ran smoothly. When I walked down the aisle with my dad at the ceremony, looking at Jon and all my family and friends, I sensed the love all around me. The décor at the reception was so beautiful and exactly what I had pictured for my wedding day. The food and cake were delicious. Our DJ was amazing. He played the room instead of just playing songs that people requested, he had people on the dance floor the entire night. He even took our special request and played a happy birthday song for Jon's groomsman Jacob, for his 30th birthday. Overall, our day was filled with love and memories we will always remember. 
Your advice to engaged couples
Don't get married during a pandemic…just kidding, but seriously it was somewhat of a roller coaster. I would suggest to definitely try to be flexible. We couldn't have a bridal shower due to COVID-19, so instead we opened our gifts in front of our families. I also couldn't have the normal bachelorette party my sister had planned, so instead we had an incredible low-key, wine-themed, bachelorette party at my parent's house that I will always remember. Start your planning early. If you have a long engagement like we did, celebrate your "negative 1" anniversary and enjoy your time being engaged! Buy a wedding countdown board so you can update it and get excited as the days get closer to your wedding day. Buy a wedding planner binder and utilize checklists so you can keep on track and don't forget anything that needs to be done. If you have the money, definitely invest in a good videographer and photographer. The day goes by very fast, and there are many key moments the bride and/or groom aren't able to see such as the wedding party walking down the aisle, the grand entrance at the reception, etc. Being able to re-watch and look at pictures of those moments is priceless. If you contract with a DJ, I would advise to get one who is also a MC, as that helps maintain the timeline at the reception. Once your day arrives, go with the flow and rely on all the planning you put forth. Don't worry so much about everything being perfect; realize what is actually important, all your friends and family being there to celebrate your love for each other!