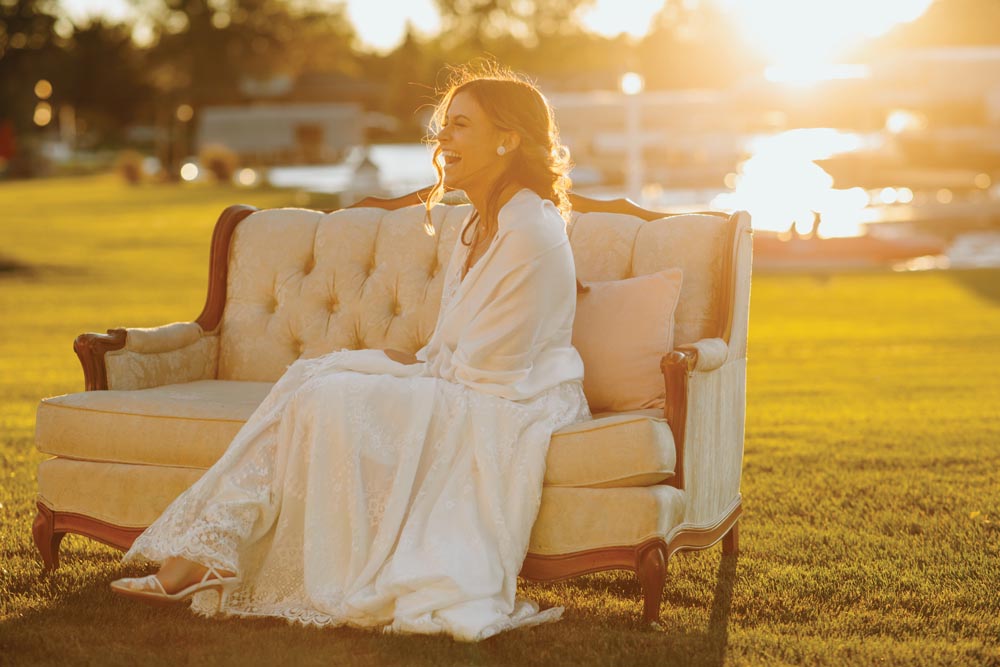 Describe Your Engagement 
Our engagement was such a surprise to me! He knew I would want something intimate and just the two of us so he did it after I worked a night shift. He had a little gift waiting with all of my favorite things in it and then got down on one knee and proposed! It was perfect and so us. He took me to breakfast where his family came and surprised me and then we all went to Chicago where my family surprised me at an amazing dinner at Eataly. It was the perfect day with lots of happy tears!  
Describe Your Wedding Vision 
I was the girl who planned my wedding when I was in middle school and have dreamt of it ever since! I really wanted something that was effortlessly elegant. We envisioned everyone having the best time, dancing endlessly, and feeling the love all around them. We originally only envisioned it inside due to high anxiety but once covid hit we switched that vision and were able to make our dreams into reality outside with the scenery as our beautiful backdrop and decoration.  
Describe Your Wedding Day 
Our wedding day was epic! All of our family, friends, wedding party, and vendors worked together to make our day absolutely perfect. It took quite the army but the day was truly magical. Our vision came to life in every way possible. 
Your Advice to Engaged Couples 
My biggest advice for engaged couples is to enjoy the process. The wedding day comes so fast so enjoy all the stress and working together you do with your fiancé prior. It's the journey that makes it feel so amazing when you're living in it. Pick the things that are most important to you and skip the others. You don't have to do all the traditional things if you don't want to! There is no rule book, just do what makes you both happy. The day is truly about your love and nothing else!