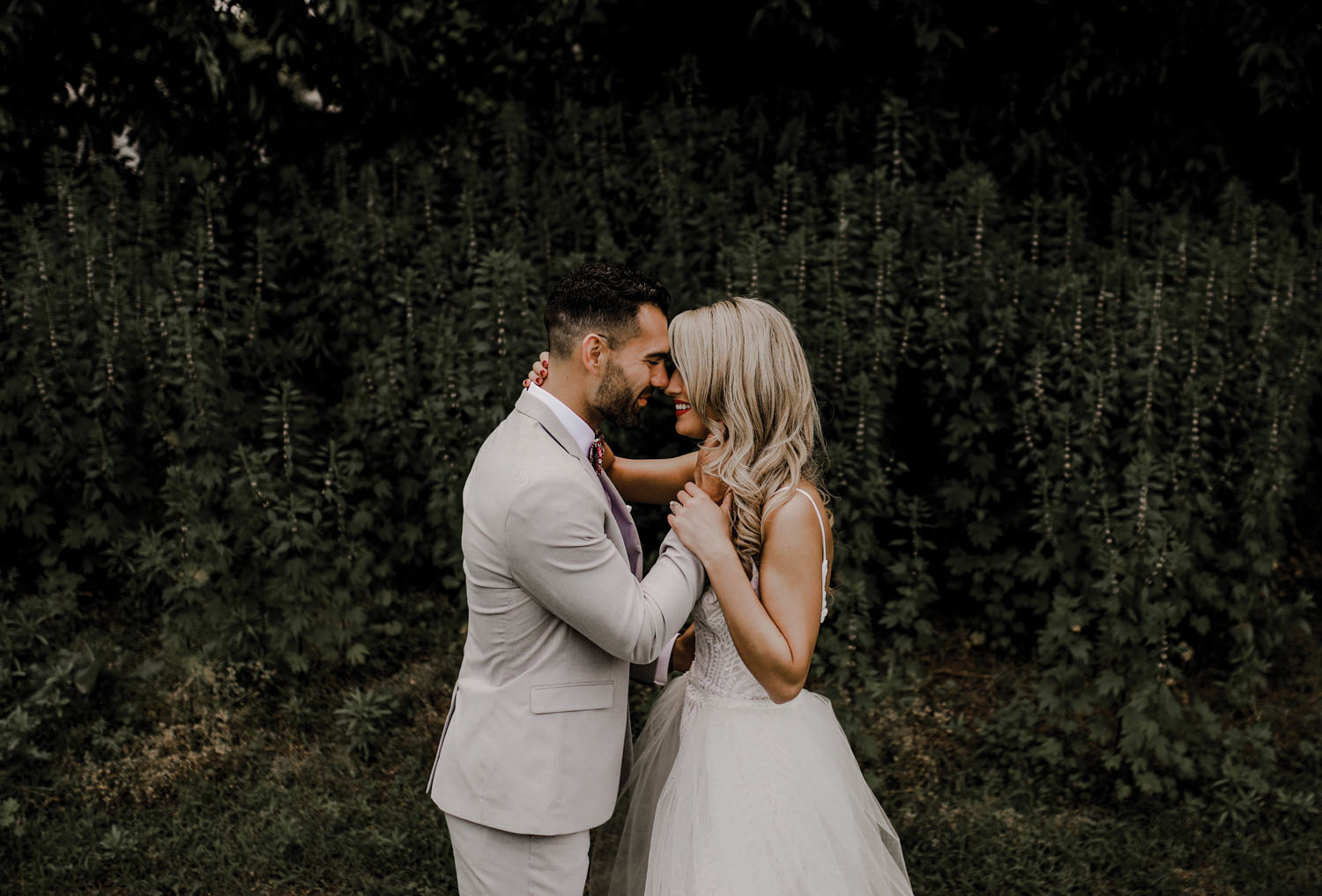 The Bride's Perspective 
Describe Your Engagement
My night started with horseback riding with a friend, which ended up becoming an extravagant surprise. I rode down a beautiful hill to where he was waiting beside a path that lead to a gazebo set for two.
He walked me down to where we sat together as he started a card trick [what he did for me 3 years ago when we were merely strangers]. It's what peaked my interest in him so long ago.
Then he went on to ask me the most important question he will ask me in my life. #ISaidYes
Carry on to wine, charcuterie board, flowers, and laying underneath the lights as the sun set. It was the most serene and gorgeous outdoor setting I could ever dream of.
We then ended the night at a rooftop for late night food – because I can't dream of ending our engagement any other way. 
Describe Your Wedding Vision
My vision was to have a very warm and moody color palette and style at our wedding, bringing in deep, rich tones for the flowers, dresses, and suit accents, as well as pulling in brass and gold wherever possible. I wanted our colors to match the warmth of the emotions we knew we would feel on our special day.
I have an eclectic style, so I incorporated various shapes and sizes of glass vases with deep wild flowers and large brass candle sticks with greenery draping over the bar and among the tables. I also wanted to make the head table stand out, so we built a large gold arch with flowers behind us and included a large "I DO" sign in front of us. I love large, statement pieces! 
Describe Your Wedding Day
The goal we had in mind for our wedding was for "our people" to know and feel how much we love them. We wanted our guests to have fun in unique, fun ways that kept them entertained, so we had a donut wall and champagne wall for guests, and I spun out of my tulle skirt during our first dance. We also hired an amazing DJ, who had a hype man who danced with everyone and kept them on the dance floor the ENTIRE night. Overall, our day was filled with emotion, love, and memories that we will never forget. The day was truly beautiful and magical. 
Your Advice to Engaged Couples
Plan as much as you can, as early as you can, so that the work closer to your date doesn't feel as heavy. Determine your strengths and decide who will do what in the process and set timing expectations of when you will get them done.
Make time for dates together! Our counselor suggested we go on a date during the week leading up to the wedding. The goal was to simply enjoy each others' company and to not talk about anything related to the wedding. It was refreshing and helped us set our focus on what was important amidst what felt like a stressful, busy time.