Submitted by Burns Special Events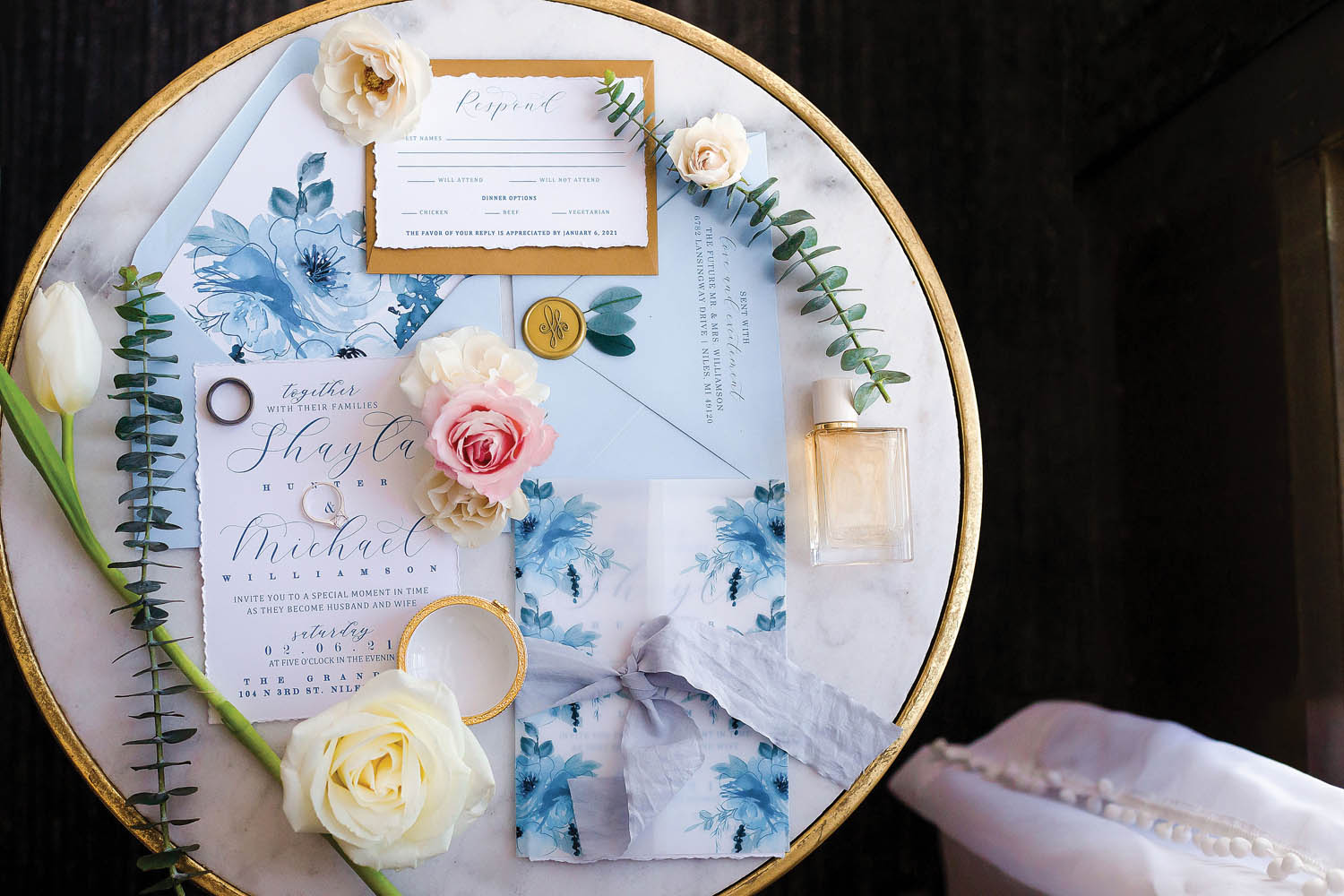 The snowy winter and gloomy days were the inspiration for this bright and timeless stylized spring shoot. The overall look combines icy blue, gold and blush pink to create a vibrant look for all brides to fall in love with. The table settings include icy blue colors and gold accents such as blue drinking glasses, gold utensils and plates with intricate patterns to balance out the solid colors. The gold lanterns and light pink roses add another level of dimension to the table design. The other tables include a cake table with gold accent draped with a pink chiffon fabric. A sweetheart table was decorated with a blue tablecloth and pink chargers to match the hanging gold lanterns placed behind the bride and groom seating. 
Burns Rental's, Lauren brought the stylized inspiration to life. The icy blue was found in many levels of the design with things like the table runner, plates and the beautiful tufted couch. Burns Rental created pops of color with gold and pink throughout the space with candles, a sheer backdrop and napkins. They also provided the florals for each table setting using pink and white roses, blue hydrangeas, eucalyptus and pampas grass. Burns Rentals' can turn any open space into a dream wedding. 
Heather Beckham Photography organized the stylized shoot to inspire and connect with other local wedding vendors in the area. She has a passion for photography, weddings and most importantly, people. Heather takes the time to get to know you while making you feel like the most important person in the room. She has great attention for details. Heather knows how to pose brides to create a flattering angle in all styles and dresses. Heather Beckham will do more than photograph your wedding, she will give you a great experience from beginning to end. 
The trumpet style wedding gown created a beautiful hour-glass shape for model Mikayla Jordan. The gown made up of lace and heavy accents of jewels across the front and back was provided by Greta with Greta's Bridal and Formalwear.The gown's breathtaking sheer train with lace edging and a satin underlay was the perfect style for this spring shoot.