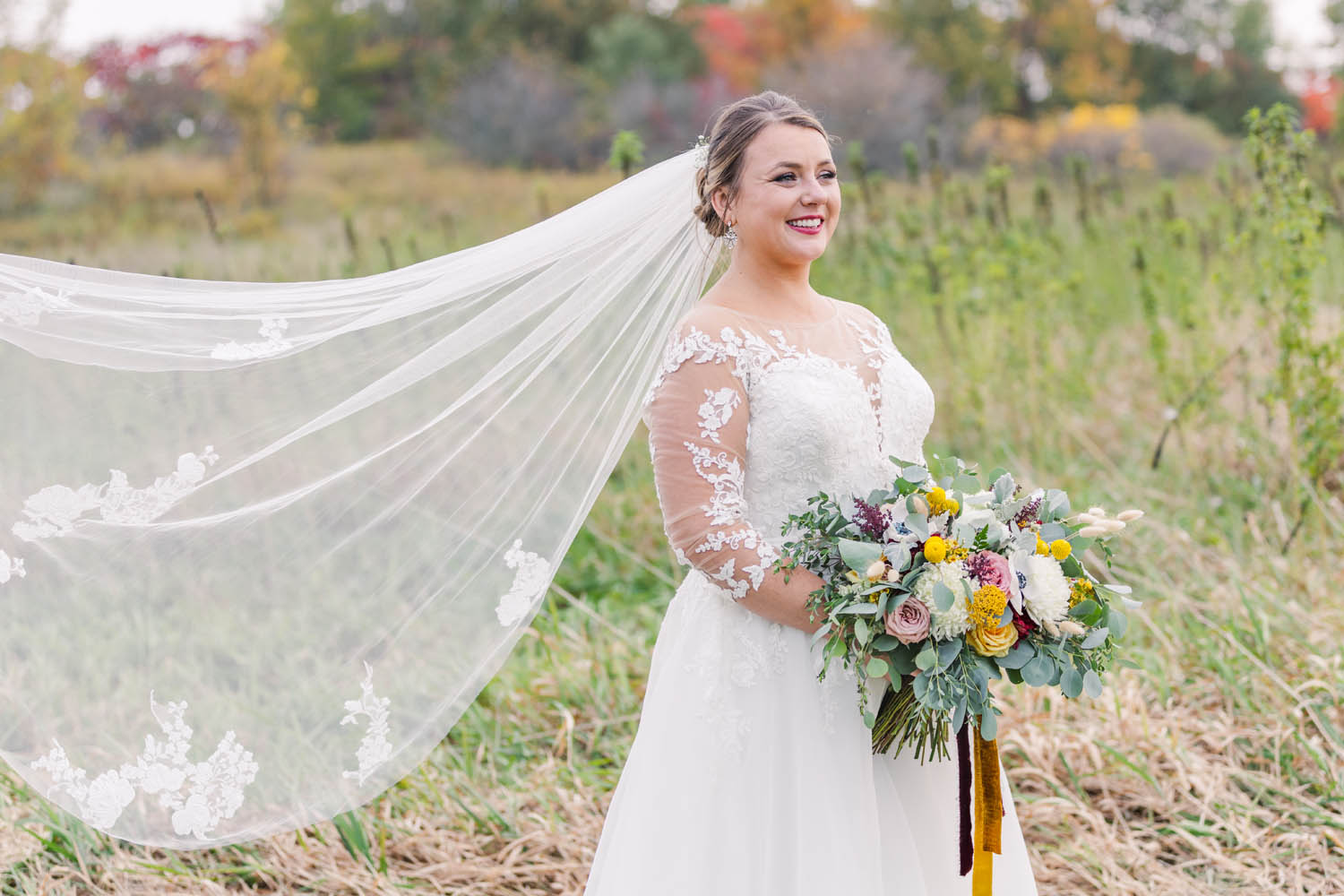 The Bride's Perspective
Describer your engagement
We were engaged on September 19th, 2019. I was expecting to go to Wellfield Botanic Gardens in Elkhart for a work event. Upon arriving, I found it odd that there wasn't anyone there yet but assumed that I was early. I was told the event was in a certain area of the gardens, so I headed that way. After crossing a little bridge, I looked up and there was Glen. He quickly dropped to one knee and asked for me to marry him, to which I said yes! It was such a surprise! We then spent the afternoon exploring the beautiful gardens.
Describe your wedding vision
I knew our wedding would be in the fall, so for my accent colors I wanted to use mustard, mauve, burgundy and greenery. After deciding on the date (10-10-20), we began our search for the perfect venue. I had always envisioned myself having an outdoor tent wedding, so we knew we would need a space that could accommodate a tent large enough for 125-150 people. After an exhaustive search, we came across Madison Road Artisan Market and quickly contacted the owner of the property. To our delight, they told us that they did allow weddings on site! We were thrilled! If you've ever been to this hidden gem, it's easy to see that the property is truly magical. I wanted to incorporate as much of the property's natural beauty as possible into the wedding plans. We used one section of the property for the ceremony, another for the cocktail hour, and a large section for the reception. It turned out to be exactly what I had envisioned!
Your advice to engaged couples
As we all know, wedding planning is stressful. This year particularly in the middle of a pandemic, it was even more so for many brides, myself included. In order to try to reduce some of that pre-wedding stress, my advice to engaged couples is to support each other and remember why you are doing what you're doing. I recommend starting your planning process as soon as possible, getting as much done as you can early on, that way you are able to collect yourself in the days before the wedding. Stick to your plan, however, be flexible if anything should change. Don't be afraid to ask your friends and family for help but I highly recommend hiring a Day of Coordinator. We were able to enjoy the entire day without worrying about a thing. We are blessed to have the support system we do and cannot thank them enough for all of their help!
Describe your wedding day
Our wedding day was truly the best day of our lives. When we rented Madison Road Artisan Market, we also rented the rustic 100-year-old farmhouse located on the property, which is where my bridesmaids and I got ready for the big day. It was so nice to be able to stay on the property where the wedding was located. It cut travel time for not just our guests, but for the bridal party as well. We were able to use that time to take additional pictures on the sprawling 40-acre property. The ceremony was picture perfect, from the location and the music, to the stunning floral that climbed the trees as an archway. Following cocktail hour, we were amazed to walk into the reception tent. Talk about Pinterest worthy! The day went off without a hitch with the help of our coordinator, Lauren. We had a great time with our friends and family, dancing away until the end of the night!