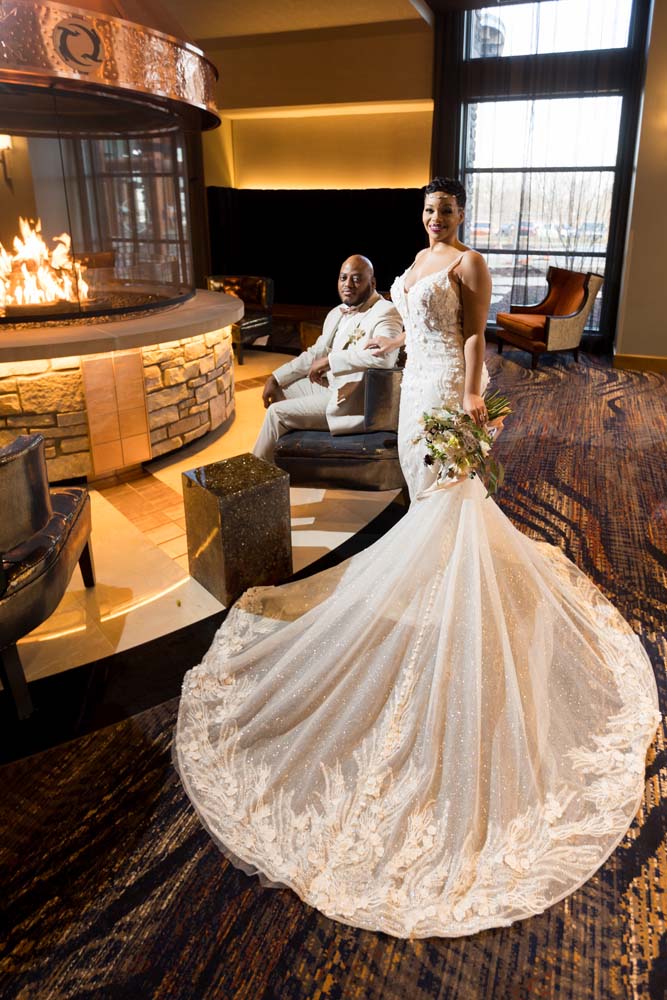 The moment we walked into Four Winds Casino South Bend's new hotel, we felt like we were transported to a different, more luxurious location.
This luxury hotel offers 317 rooms and 83 suites with elegant, modernized décor and accommodations that include Hospitality Suites, master bedrooms and bathrooms, fireplaces, a bar, outdoor seating, outdoor rooftop pool and a full-service spa that includes a sauna, steam room, his and hers lounge areas and many relaxing spa services to choose from. Inside the hotel on the third floor is the Edgewater Café that has delectable cuisine and lively entertainment.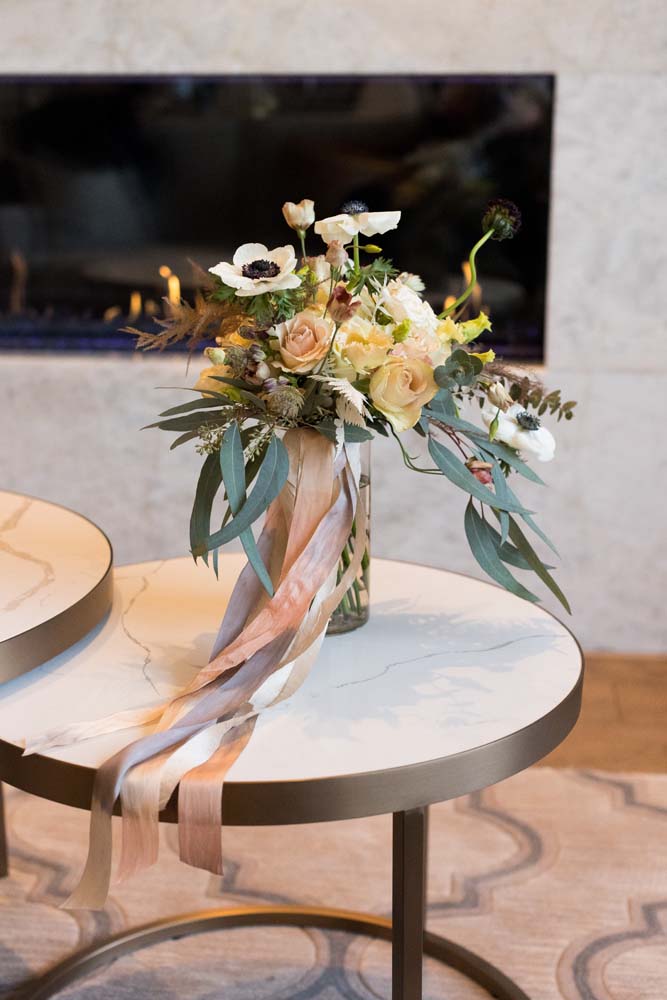 Inside the ballroom at the Four Winds Casino South Bend's hotel, Merry Me Events, along with Burns Special events created a candlelit backdrop that was incredibly unique! The coral, white and gold details on the tablescapes combined for a very luxurious feel. The metal stationery at each table setting was a statement piece.
Merry Me Events also created all the floral arrangements for this stylized shoot. They used a variety of floral such as french tulips, anemone, chocolate lisianthus, purple scoop scabiosa, quicksand roses, painted tree fern, and assorted eucalyptus to name a few.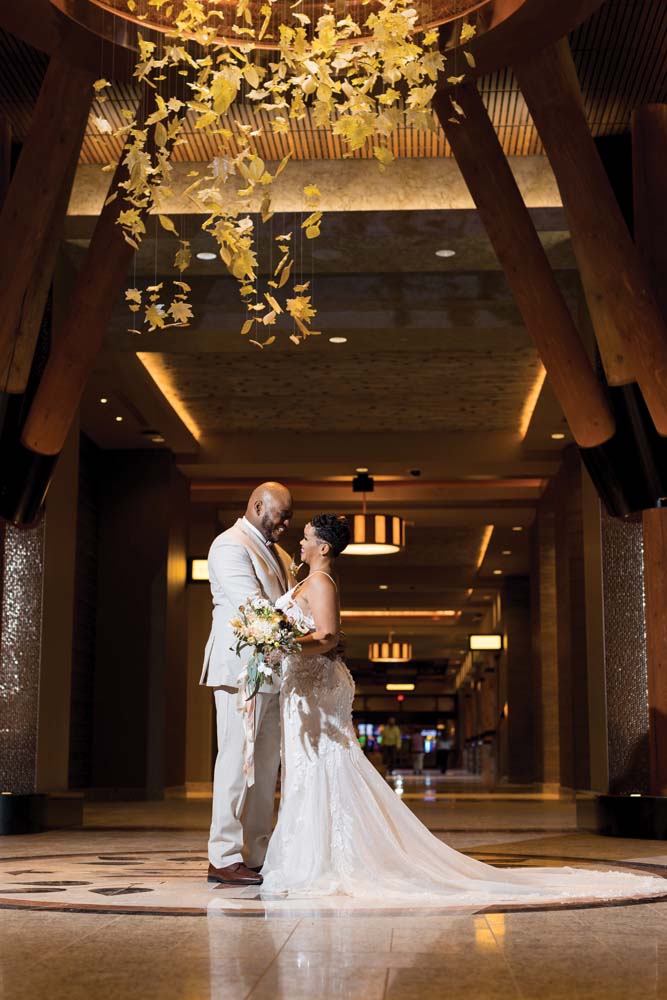 Our models, Nickea and Anthony Jones, looked incredible. We loved Nickea's sweetheart neckline, spaghetti strap gown provided by Here Comes The Dress. It had the most intricate beading on the bodice that trailed down to the skirt of the dress. Anthony looked dashing in a tan tux provided by Louie's Tux Shop. The floral pocket square that Merry Me Events created perfectly matched with Nickea's bouquet.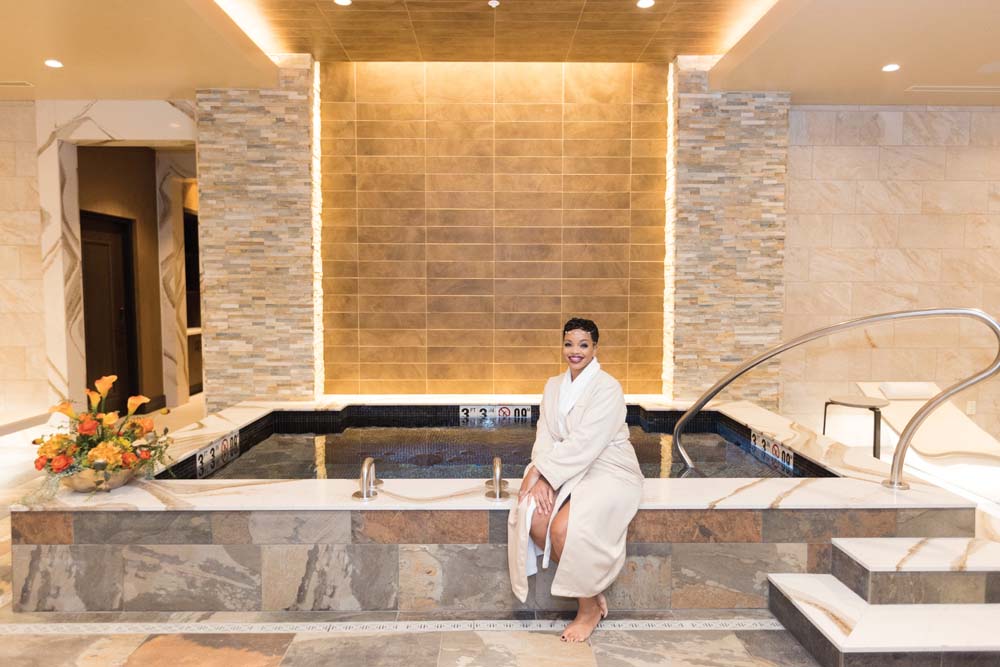 Nickea's makeup and hair was done by the Beauty King Glam Team. We loved her bright eyes and bold pink lip. Her tight curled hair and glamorized makeup gave off an old Hollywood vibe that was perfect for this shoot.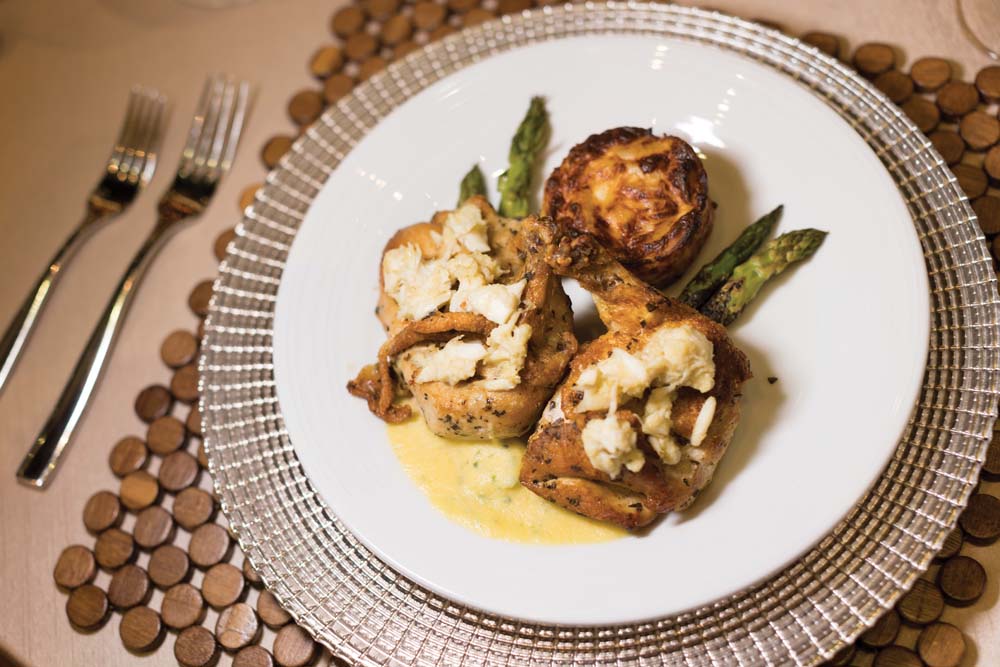 Four Winds Casino created an amazing and delicious meal that would make you and your guests wanting seconds! For an appetizer, their chef made jumbo shrimp cocktail, mini crab cakes with sweet roasted corn sauce and butter melted leeks and candied apple pork belly. Their wedge salad was made of baby iceberg, Nueske's bacon, smoked bleu, roasted potatoes with buttermilk ranch. The Mediterranean salad had hearts of romaine, pickled beets, marinated red and yellow tomatoes, roasted olives, feta, and a balsamic glaze with olive oil.
The three entrée's that they made were broiled salmon on Beurre Blanc wild rice and seasonal vegetables, filet mignon with wild mushroom potato au gratin and seasonal vegetables, and a chicken Oscar that has a Béarnaise sauce, crab meat mashed potatoes and seasonal vegetables.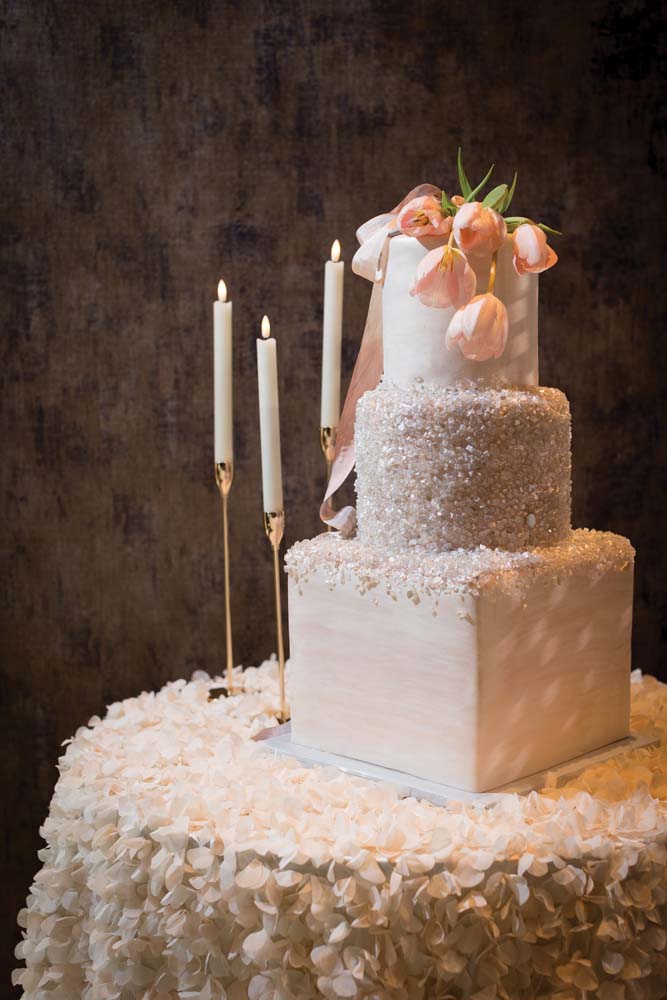 You can never go wrong by getting your wedding cake from Sweet-Em's Cake Shoppe. The cake that they designed for this stylized shoot was absolutely breathtaking! The details on each layer of the cake are eye catching. We love the light pink/coral color that is perfect for a springtime wedding.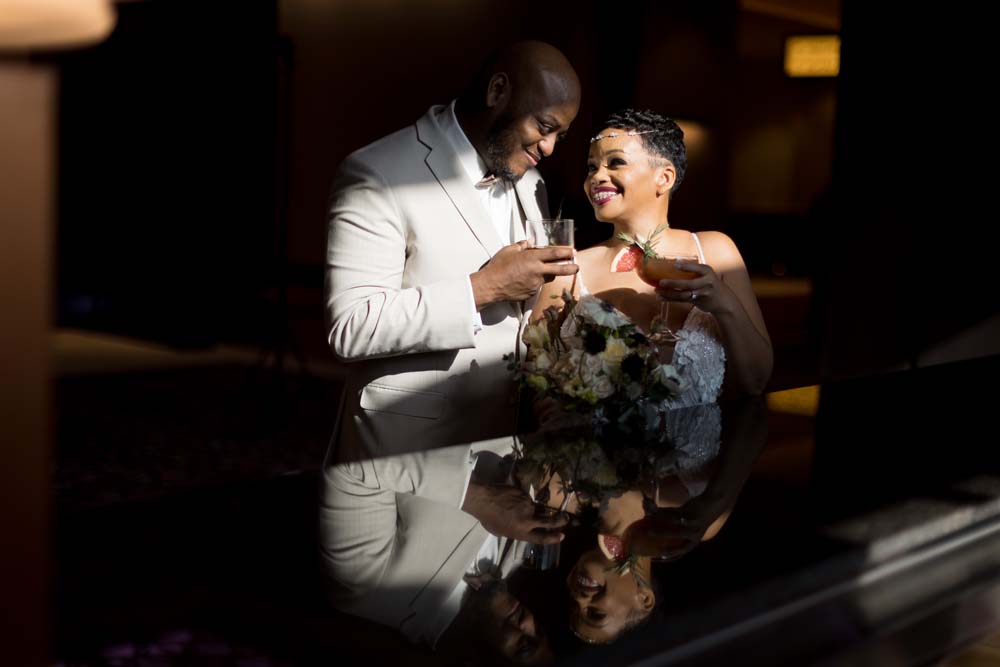 One of the best investments you can make while you are planning your wedding is getting a superb photographer. Look no further than Monica Z Photography! Her lighting, posing, attention to detail and overall professionalism is top-notch! The images speak for themselves.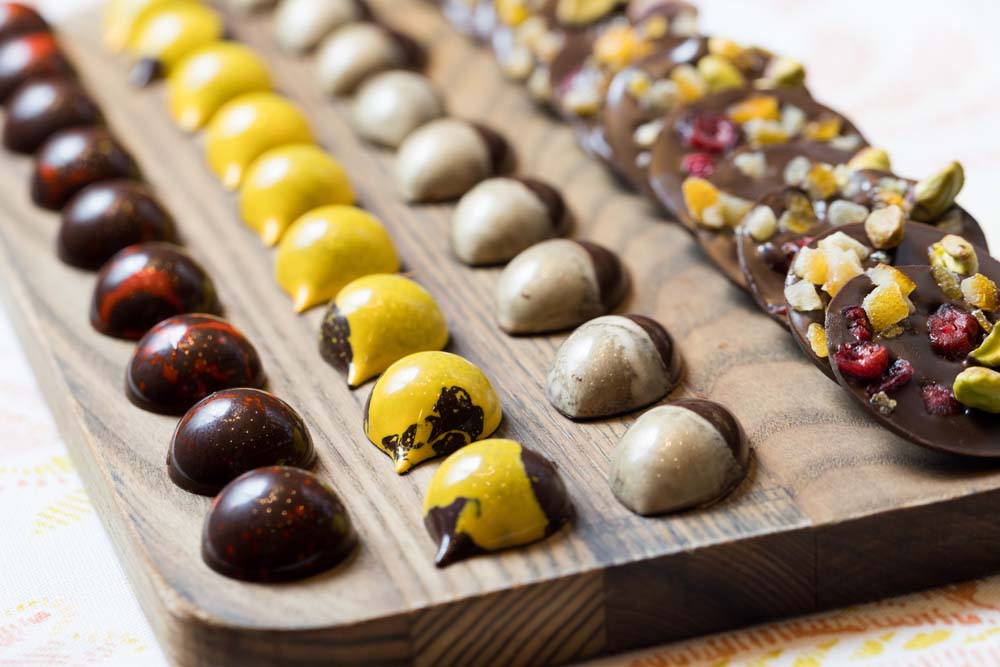 The dessert tray was not only mouthwatering, but so eloquently displayed. Four Winds South Bend made white chocolate covered strawberries, chocolate truffles, macarons, assorted chocolate bon bons, hazelnut medallions, Four Winds Chocolate domes, lemon meringue shooters and hazelnut coffee crunch.